I'm in the process of cleaning my office which also serves as the Global Broadcast Studio for WebDesign.com training webinars. I normally stay pretty motivated during this endeavor until I get to my dreaded junk drawer.
Just about every kitchen in the western world has a junk drawer. This is that catch-all location in the house that you can be sure to find a screwdriver, rubber bands, fast food plastic sporks with plastic wrapping still on, scotch tape, electrical tape, duct tape, scissors, a bunch of pennies and nickels, random bags, lonely screws, nails, and other odds and ends that just don't have a home.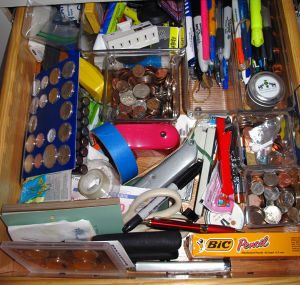 My junk drawer is actually a banker's box. Every few days when I clean the office, I put things away and then if I don't have a home for something yet, or I'm pressed for time, the items end up in my junk drawer/box. Thus the dreaded time comes every so often when I have to go through this black pit of despair. What makes matters worse, every time you move houses, locations, rooms, the black pit follows you. So what might you ask is in my millstone box?
Two rolls of 35mm film that I have no idea what is on it.
The past 8 plus years of calendar/planners that I keep referencing notes I've made in the past.
Old random memory cards of various sizes ranging from 8MB to 2GB and everything in-between.
Business cards of people I've met
Random computer wires, plugs, adapters, and extensions.
Random coins and paper bills from around the world.
And a whole bunch of other things that need to be sorted, filed, and put away.
So my question to you is how do you sort your junk drawers and have you ever gotten to the point that you just avoid your house's junk drawer? Well this Saturday my goal is to conquer this black pit and remove the need for an office junk box by making a home for all of this stuff.